Every year, The U-Turn Centre impacts the lives of hundreds of community members and their families by supporting their recovery from alcohol and drug addictions, giving them renewed hope for a healthy, productive future. Your donation will impact the lives of real people in the community, by providing better access to addiction services, recovery supports and education that strengthens their recovery.
As a nonprofit organization, we depend upon the generosity of many caring individuals and organizations to help us carry out our life-changing work and we are extremely grateful for every gift.
As a registered charity, we provide a tax receipt for donations over $20.
DONATE ONLINE
Make a secure donation online now through CanadaHelps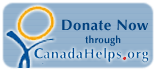 DONATE BY CHEQUE
To make a donation via cheque, simply mail your cheque payable to:
U-Turn
19 Industrial Crescent
Carbonear, NL A1Y 1A5
IN-KIND DONATION
We always appreciate donations of these much-needed items.
Drop off: 19 Industrial Crescent, Carbonear
Paper napkins
Paper towels
Dish detergent
Toilet paper
Printer paper
Canned goods
Fresh fruit
Snack items
Tea, coffee, sugar, milk
Soft drinks
Bottled water
Toothbrush
Toothpaste
Deodorant
Shampoo
Soap bar
Lotion
Shaving cream
Razors
Feminine hygiene products
FUNDRAISING
Start a fundraiser and rally your community and network to a great cause. Here's a few ideas to get you started:
Sale – garage, BBQ, bake, craft, car wash.
"A-thons" – walk, read, dance, skip, bowl.
Contact: Jeff Bourne – 709-595-3223