Why Support U-Turn?
Addiction is a devastating illness that tears families and communities apart. We regularly see individuals who are in crisis and family members affected by it who don't know where to turn for help. We are a small non-profit addiction recovery centre in the midst of an addictions epidemic, but we have hope for the future and we are making a difference.
Your donation will help save lives, restore families, and create safer, healthier communities. It will help us provide much needed services and support to individuals and their families in recovery. With your help, no matter how small your contribution, we can do more.
"The words thank-you will never be enough for everything they did for my family. I think if it wasn't for Jeff [my son] might not have made it to treatment. The aftercare they have given me since my son has been [in treatment] has been amazing. The centre truly saved my life and I am not the only parent that feels that way. Without the centre I don't know what would have become of me with my son's addiction."
— Mother of recovering addict
Ways You Can Donate

U-Turn is a registered charitable organization. You can make a financial contribution to U-Turn through our secure online donation page or at our main office via cash or cheque. Taxable receipts will be issued for amounts over $20.
Donate Online
If you'd like to make a safe and secure online donation using a credit card, click here now. U-Turn uses the respected company, CanadaHelps, to accept online donations.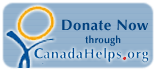 Donate By Cheque
If you prefer to make a donation via cheque, simply mail your cheque payable to:
U-Turn
46 Powell Drive
Carbonear, NL A1Y 1A5
Wish List
Paper napkins
Paper towels
Dish detergent
Toilet paper
Printer paper
Canned goods
Fresh fruit
Snack items
Tea, coffee, sugar, milk
Soft drinks
Bottled water
Personal care items
Toothbrush
Toothpaste
Deodorant
Shampoo
Soap bar
Lotion
Shaving cream
Razors
Feminine hygiene products
You could also hold a supply drive, a fundraiser to purchase supplies, or work with local merchants to obtain donated or discounted items.